In Holland, it is customary to eat 'oliebollen' on New Year's Eve; deep fried balls of dough  (sometimes filled with raisins) served with powdered sugar. They are good, but Barbara Gwanmesia found a way to improve them and help others at the same time. 
In Cameroon, many women die while giving birth, because they can't afford the 30 Euros (25 GBP/31USD) for a hospital delivery. Dutch/Cameroon Barbara decided to do something to help these women and developed the recipe for her take on oliebollen to sell at local markets. She called them 'Afribollen', because you can clearly taste her Arican (and Caribbean) roots: instead of plain raisins, she uses rum raisins, and she added grated coconut and a pinch of cayenne pepper. For every Afribol she sells, 12 cents are donated to a Cameroon organisation that helps provide hospital deliveries to women. 
Barbara's Afribollen were an instant hit, but her son Beng was sure there was an even bigger market for them. The two decided to collect phone numbers of supermarkets and just went and called them with the whole story. 
One of the biggest supermarkets in Holland, Albert Heijn, decided to go and sell Barbara's Afribollen and placed an order of 20.000 pieces (and will still donate 12 cents for every Afribol that's sold to Cameroon). Needless to say that was a bit to much for Barbara to make in her own kitchen, so she started collaborating with a professional bakery in the town Heiloo. 
After hitting the national news in Holland, my guess is the Afribollen wille be sold out very quickly. I hope Barbara will continue to make her Afribollen throughout the year and help as many women in need as she can. And I hope I can still find some Afribollen when I go to the supermarket later today…
 
Facebook: www.facebook.com/theafribolcompany
Website: www.afribol.nl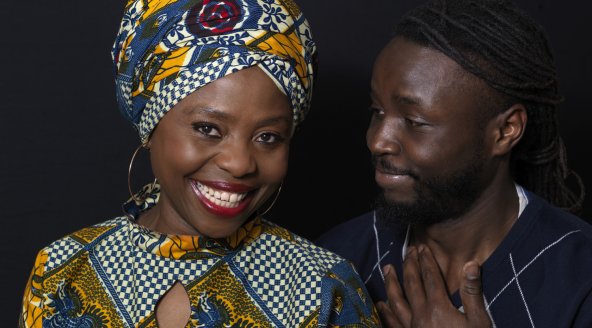 Barbara and her son Beng (source: RTL)
Barbara and her Afribollen (source: NOS)